Game-Changing Gifts: The 3 Ultimate Building Block Gun Toys
In the pursuit of unique, exquisite and challenging assembly fun, building block toys always occupy a unique position.
In particular, when the concept of building block construction and bullet guns are combined, the fun will be unparalleled upgraded.
Let's step into the world of building block gun models, a cool and highly innovative world.
This is not only the pursuit of precision and artistry, but also a tool that provides infinite possibilities. Here, I would like to recommend three unrivaled building block toy gun models to you, which stand out for their exquisite design, realistic appearance and unique functions.
Whether you are a building block enthusiast, a shooter enthusiast, or just looking for a new and creative way to relax, these building block toy gun models will bring you an experience like never before.
Let's embark on this ultimate building block adventure and explore the depth and charm of these innovative designs together.
MOULD KING 14004 Desert Eagle Pistol Building Toy Set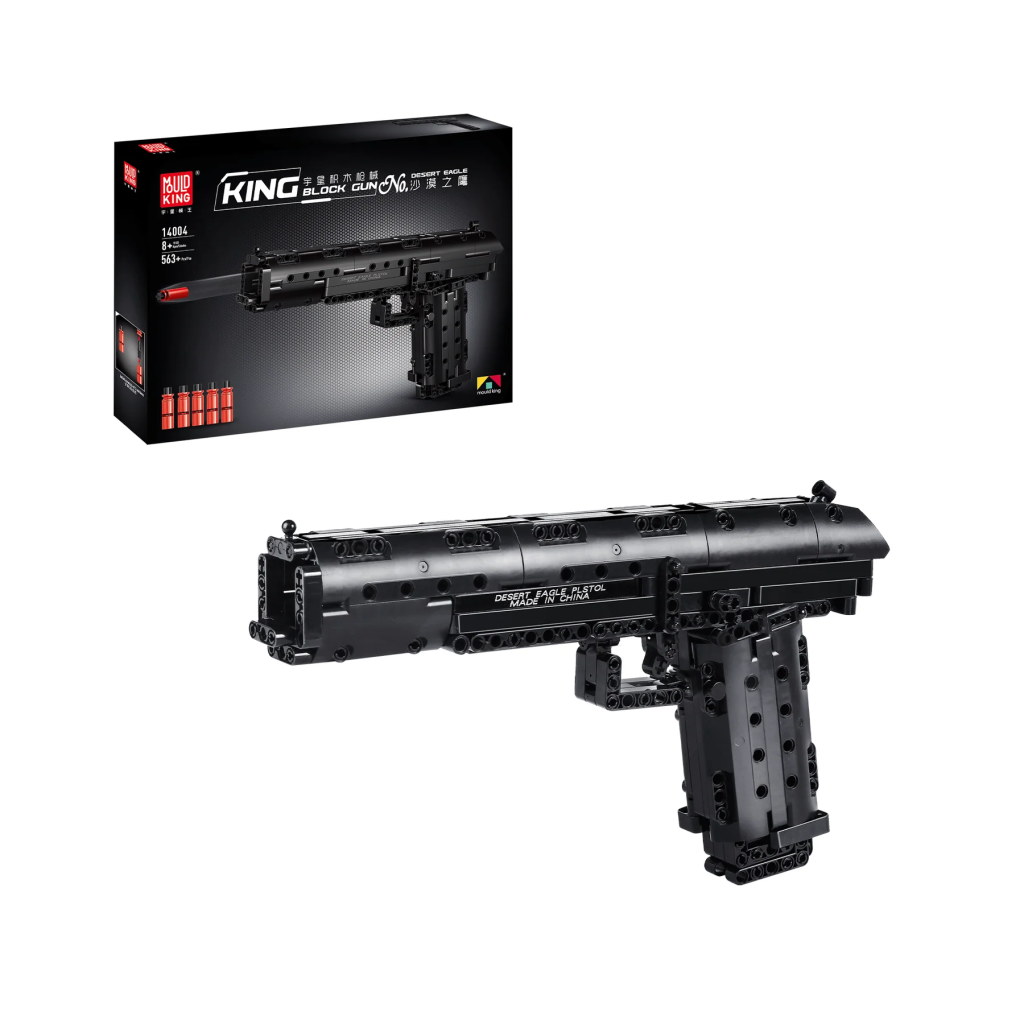 If you are looking for a building block gun model that combines complexity and innovation, then the MOULD KING 14004 Desert Eagle Pistol Construction Toy is the ideal choice for you.
This model takes you on an adventure of assembling more than 500 building blocks, each representing delicate craftsmanship and infinite creativity.
Experience the immersive experience of holding the Desert Eagle and feel the weight of this nearly 27 cm long model in your hand.
It is beautifully designed and richly detailed, reflecting uncompromising precision craftsmanship. The pull-back reload function of the model seems to make you immersive, as if you are holding a real Desert Eagle.
Whenever you load the simulated bullet and then pull it gently, the realistic sound seems to be the sound of battle calling you.
This gun model comes with three brick bullets, and the shooting function gives you a realistic experience, as if you are entering a lively battlefield environment.
Feel the flow of power every time you pull the trigger, and that's what makes the MOULD KING 14004 Desert Eagle Pistol Construction an unparalleled interactive experience.
The MOULD KING 14004 Desert Eagle Pistol Construction Toy is both an educational entertainment tool and a refined work of art.
It can not only improve your hands-on ability and imagination, but also let you experience the fun of shooting as if it were real.
Own this model now and experience a whole new level of building fun!
MOULD KING 14010 AWM Sniper Rifle Building Toy Gun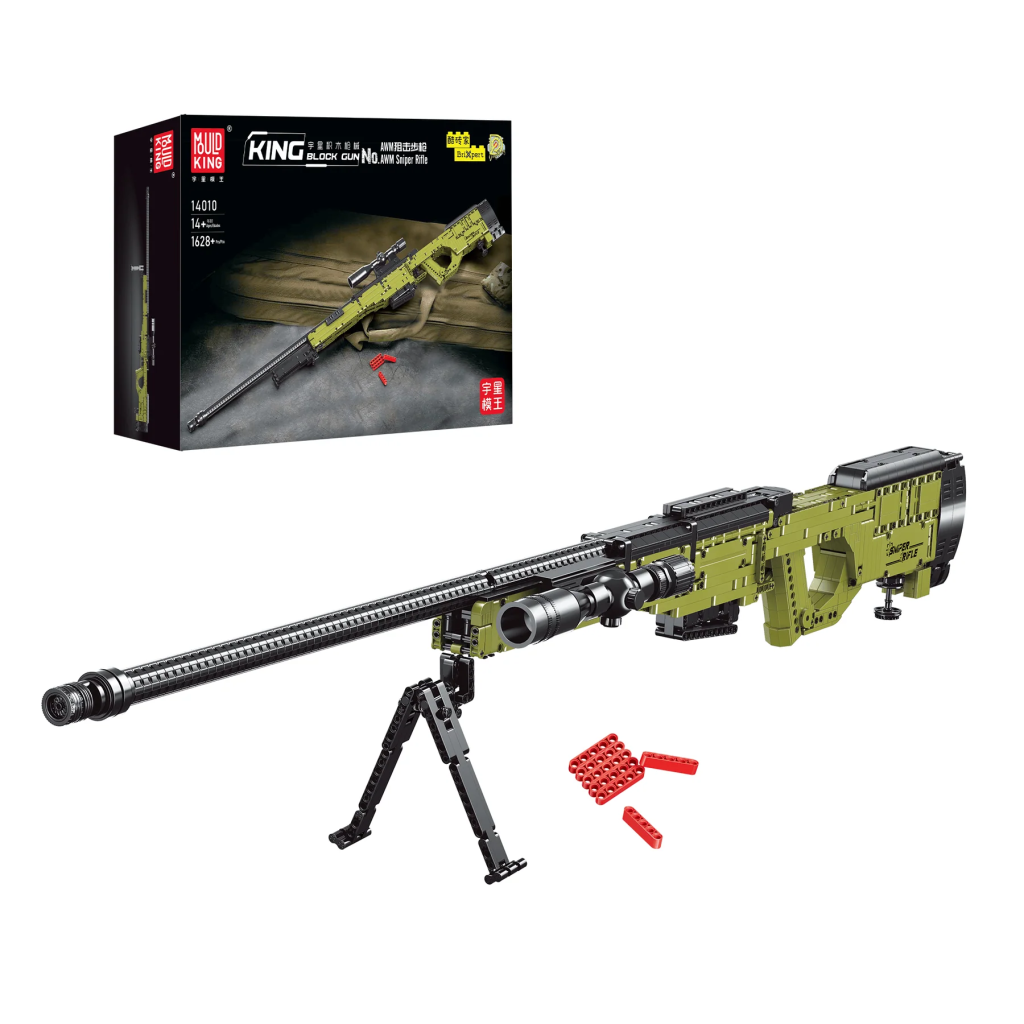 "PUBG Mobile" – the world's most popular battle royale game, has won the love of countless players with its excellent game design, realistic gun simulation and intense combat experience.
In the game, an AWM sniper rifle is undoubtedly the dream weapon of countless players. With its super penetrating power and accurate aiming, this gun allows the holder to have an invincible presence on the battlefield.
Now, imagine what it would be like if you could bring this AWM sniper rifle to life and have a real, touchable model of it?
This is what MOULD KING 14010 AWM Sniper Rifle Assembled Toy Gun gives you, a bridge connecting the virtual world in "PUBG Mobile" with real life.
This AWM model replicates the shape and details of the original gun at an exact 1:1 scale, and is nearly 120cm long, with more than 1600 building blocks, each of which is full of challenges and fun.
This model gun is equipped with a sniper bracket and a high-definition aiming assist scope, bringing you a real shooting experience.
Realistic manual reloading makes it feel like you're actually holding a real AWM sniper rifle. There are 5 brick bullets in the magazine, let you feel the whole process of loading, aiming and shooting.
Owning the MOULD KING 14010 AWM Sniper Rifle Assembled Toy Gun, you are like a sniper hiding in the bushes, feeling the tension and excitement of every pulse.
This is not just an assembly toy, but also a tribute to the players of PlayerUnknown's Battlegrounds, a memory of every suppression and pursuit, and a commemoration of every victory.
Whether you are an avid player of PlayerUnknown's Battlegrounds, a fan of building block assembly, or just like sniper rifles, this MOULD KING 14010 AWM sniper rifle assembly toy gun is worth having.
Pick it up, let us enter the battlefield again, and experience the calmness and passion that only belong to snipers!
Mould King 14020 AKS74-U Building Toy Gun Motorized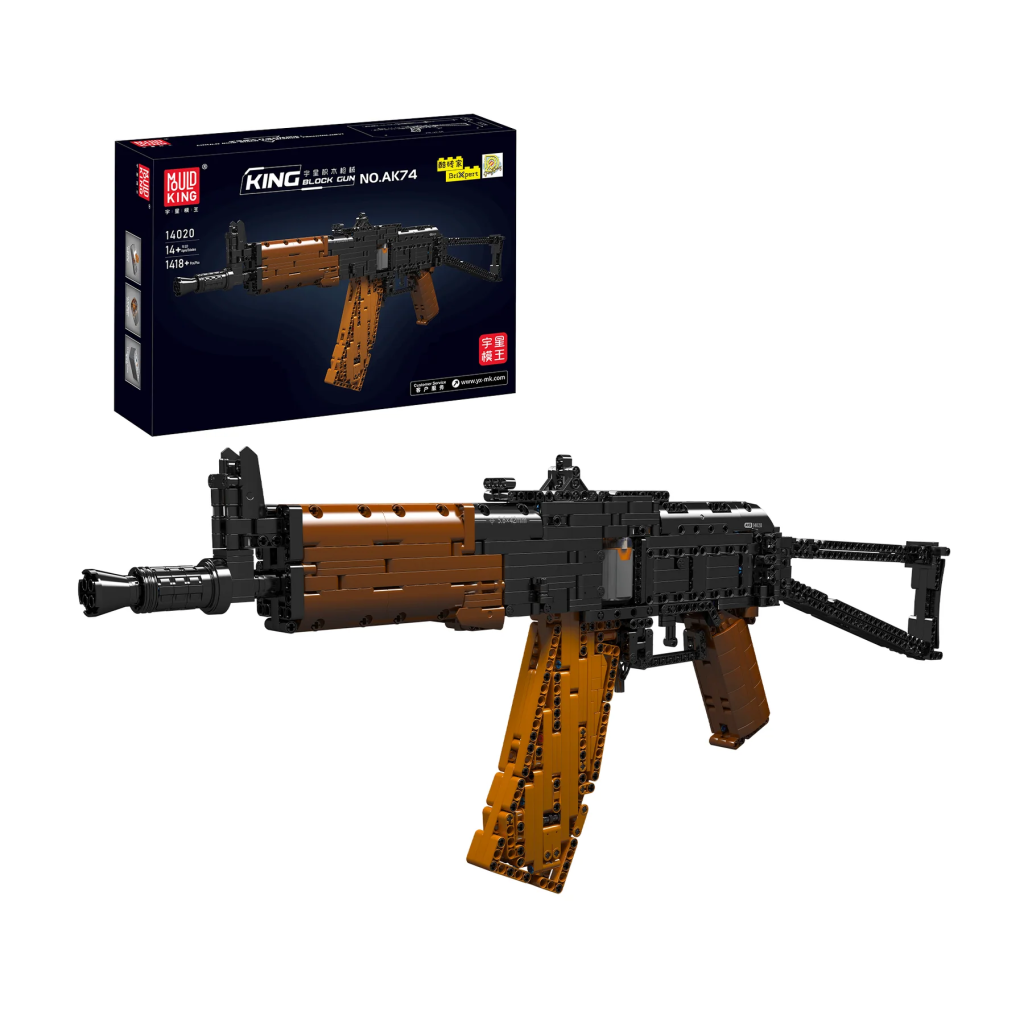 Traveling through the long river of history, from the Cold War era of the Soviet Union all the way, the AKS-74U is not only an iconic weapon, but also a witness of history.
It has won the favor of military fans all over the world for its ruggedness, reliability and durability, and its unique curved magazine and long-range shooting accuracy are deeply rooted in the hearts of the people.
Now, the Mould King 14020 AKS74-U Electric Construction Toy Gun gives you the opportunity to assemble this legendary weapon, know every inch of it, and feel every bit of its charm.
This model uses a unique design technique to realistically reproduce every part of the AKS-74U, from the unique curved magazine to the precision aiming device, every detail is lifelike.
You will have the opportunity to look inside this gun and get a feel for the solidity and reliability that emanates from it. Up to 30 rounds of bullets can be loaded, which not only allows you to experience the realistic loading process, but also brings you the ultimate shooting experience.
But there's more to this model than that. It is also equipped with electric functions, bringing you an unprecedented interactive experience.
You will have the opportunity to feel the real recoil, as if you are really swinging an AKS-74U. This is an adventure that perfectly combines past and present, virtual and reality, and it is also an in-depth exploration of history.
If you're a history buff, this model will give you a glimpse into the secrets of the AKS-74U's history.
If you are a fan of shooting games, it will let you experience the real sense of shooting.
If you are a lover of building blocks, it will bring you endless assembly fun.
In conclusion, no matter who you are or where your interests lie, the Mould King 14020 AKS74-U Electric Construction Blaster is sure to give you an unforgettable adventure.
Don't hesitate any longer, pick it up immediately and start your journey of history!
The building block gun models not only provide an avenue to explore the fascinating intricacies of their real-world counterparts but also offer countless hours of assembly joy and an immersive, tactile connection to the world of guns.
Whether you're a die-hard gamer longing to manifest your virtual exploits, a history aficionado drawn to the allure of iconic weaponry, or a building block enthusiast thirsty for your next creative challenge, these models promise a rewarding journey.
So, why wait? Answer the call to adventure. Experience the thrill of building and the satisfaction of completion.
These remarkable pieces are waiting for you, ready to make your leisure time not just a pastime, but a time of passion, intrigue, and discovery.
Set your sights on these models, pull the trigger on your curiosity, and let the adventure begin!