Tiny Homes, Big Dreams: Top 3 Model House Building Kits
Finding the perfect gift can be a challenge for those with a passion for architectural design and an obsession with tiny homes.
You may be looking for a gift that will allow them to express their creativity while resonating deeply with their passions.
Here, I recommend building block toys. Not only because of building block toys world-famous popularity and durability, but also because it offers an unparalleled opportunity for building enthusiasts to realize their design dreams.
Bricks aren't just a kid's toy, they're actually a creative tool that enables your friends and family to turn their architectural dreams into reality. Let's explore the charm of building blocks and see how it can be an ideal gift for every house building lover.
Mould King 16042 Street Modern BAR MOC Building Set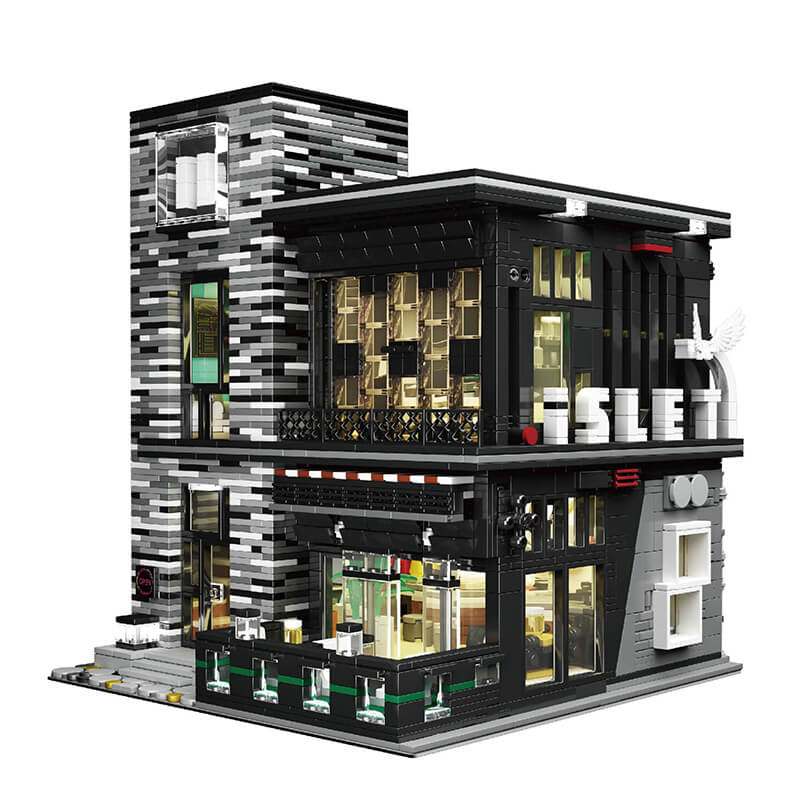 The first one we want to recommend is Mould King 16042 Street Modern Bar MOC Building Set.
More than just inanimate plastic cubes, this building block set is a tool for creativity and imagination in your hands, with which you will be able to build your very own modern bar, brick by brick.
The two-story design space includes a diverse interior environment, where you can arrange a multi-person bar or a more private two-person box as you like. The kitchen of the bar is equipped with various simulated props, as if you can really smell the strong aroma of coffee. What's even more amazing is that there are tons of well-designed details hidden in this model waiting for you to discover and create.
Even better, this building set is equipped with ambient lighting and LED light strips.
When night falls, the whole bar becomes more charming under the warm lighting. The light lines are subtly hidden in the building blocks, making the whole model look more complete and refined, making your small bar shine like a real building.
Overall, Mould King 16042 Street Modern Bar MOC Building Kit is a great choice to satisfy your passion for architecture and innovation.
It encourages us to use our imagination and create our own ideal space. Whether as a self-challenge or as a gift for an architecture lover, this will make a unique and meaningful gift.
Mould King 16019 The Botanical Garden MOC Block Building Set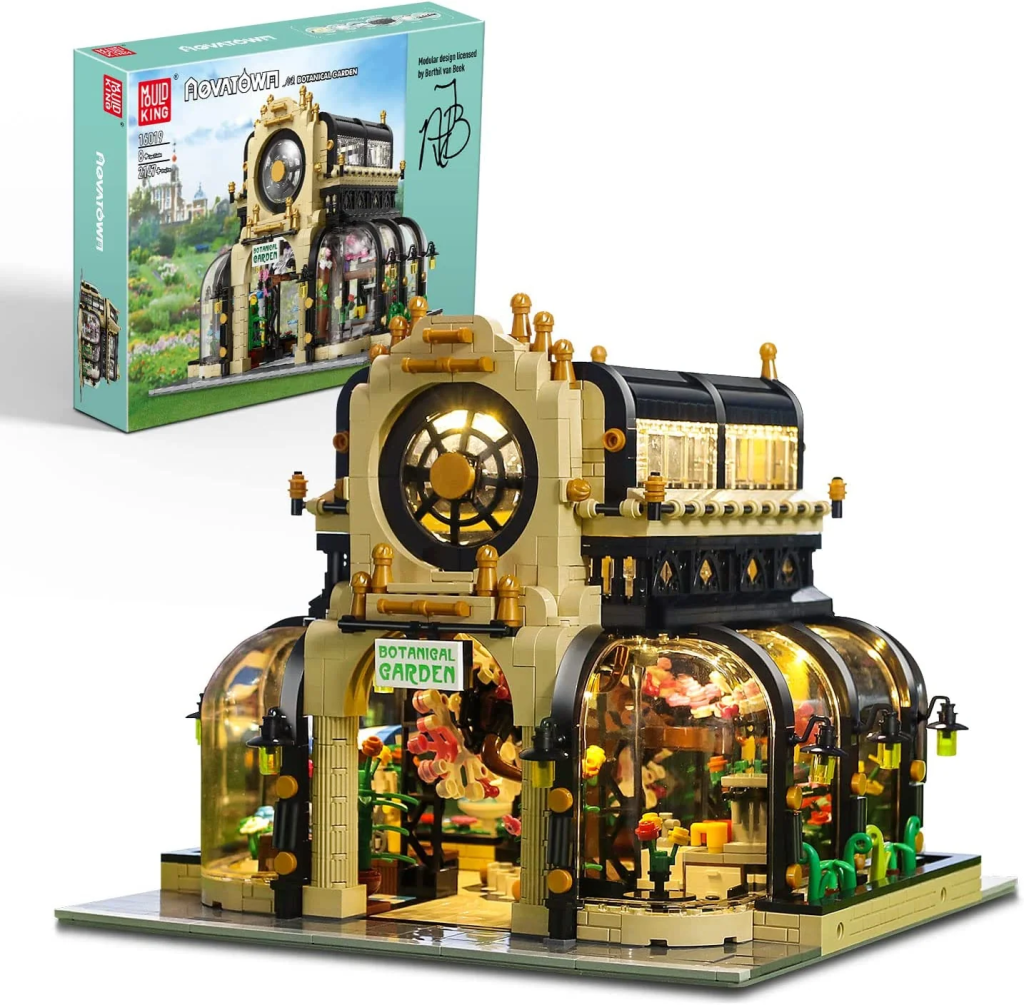 The next thing I want to recommend is let people refreshing Mould King 16019 botanical garden MOC building block set.
This model composed of more than 2,000 building blocks is close to 22 cm in height, which not only allows you to comprehensively improve your hands-on ability, but also allows you to give full play to your imagination and create your own green paradise.
The 360° panoramic design allows you to enjoy the whole picture of the botanical garden from any angle.
Subtle LED lights are projected on various plants and buildings, adding a mysterious and romantic atmosphere to the model.
It makes you feel as if you can smell the fresh fragrance of flowers and feel the warm sunshine, just like being in a romantic garden world.
Every part of the Botanic Garden Building Kit has been carefully designed to look stunningly realistic, from the detailed leaf veins to the variously shaped flowers.
Let you enjoy the different shapes, patchwork textures and colorful beauty of plants in the world of building blocks.
Mould King 16019 Botanical Garden MOC building block set is not only a building block toy, but also a miniature botanical garden that you can freely shape and interpret stories.
It allows you to find peace and fun in your busy life, whether it is for self-enjoyment or as a gift to relatives and friends, it will bring a unique warmth and romance.
Mould King 16036 Modern Coffee Shop MOC Building Set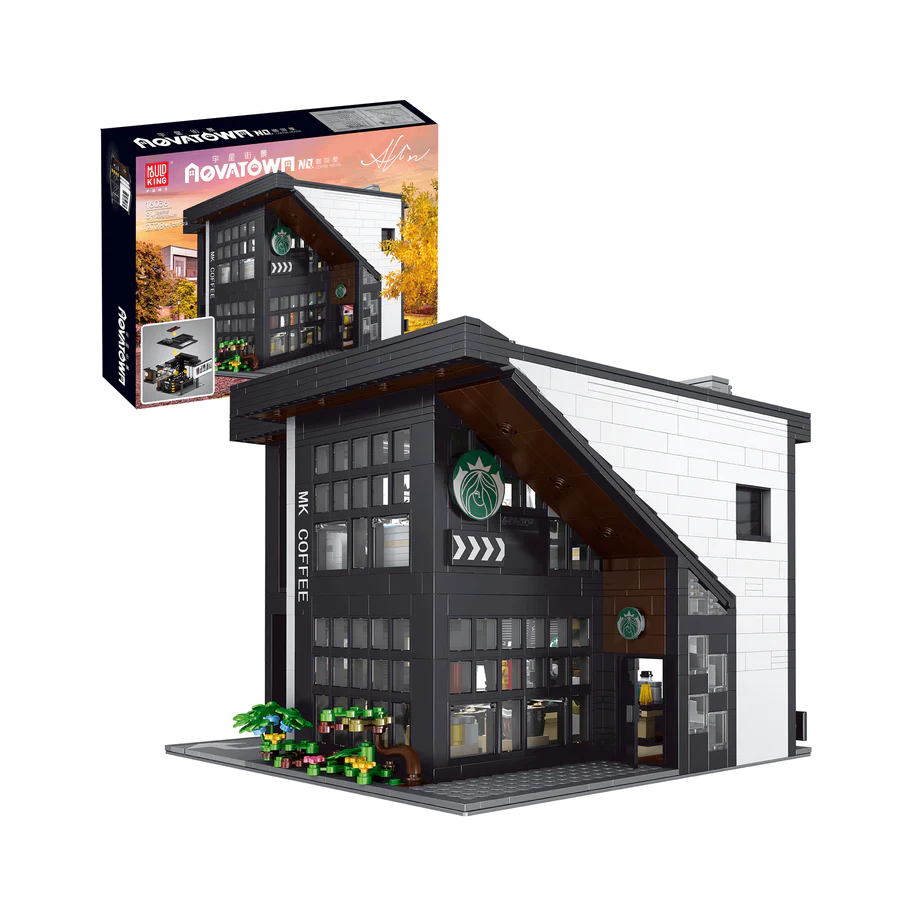 For those who love architectural models and are keen on coffee shop culture, Mould King 16036 Modern Coffee Shop MOC Architecture Set is undoubtedly a boutique that you cannot miss.
Consolidating nearly 3,000 building blocks and standing over 21 centimeters tall, this model recreates your favorite coffee shop before your eyes in astonishing detail.
This model is fully modular, with removable parts, allowing you to build your ideal coffee shop yourself, giving full play to your creativity and imagination.
The coffee shop building includes service area, production area and rest area, and all the details make people feel like they are in a real coffee shop.
In addition, LED lights are added to the interior of this coffee shop model.
When night falls, warm lights shine through the windows of the coffee shop, creating a thick and warm atmosphere, making this small model your living space A beautiful landscape.
The black and white tones, the placement of various plants, furniture and tools make this cafe model a perfect replica of a cafe, whether it is a coffee machine, a seat, or even coffee beans, it is so vivid and real. Whether you love coffee culture or like the fun of building with your own hands, Mould King 16036 Modern Coffee Shop MOC Building Kit can bring you endless surprises and fun.
Whether it's the vibrant and bustling atmosphere of the Modern Bar, the tranquil beauty of the Botanical Garden, or the charming coziness of the Modern Coffee Shop, these Mould King building sets offer a unique, hands-on experience that allows architecture and building enthusiasts to dive into their passions.
These building sets not only offer an immersive building experience, but they also deliver a final product that is a miniature work of art, a testament to their creator's patience, skills, and creativity.
Whether you're buying for a loved one or treating yourself, these building sets provide a delightful escape into a world of imagination and design.
They serve as the perfect gift, combining the joy of creation with the satisfaction of a beautifully finished model. Embark on this building journey, and let each brick bring you closer to your architectural dreams.