Top 3 Roller Coaster Building Sets for Passionate Builder
When a rainbow pierces the sky and a violent rainstorm passes, have you ever longed to control the free-flying wind, ups and downs with the raindrops?
This kind of experience is exactly the thrill and excitement brought by the LEGO roller coaster building block model, and for those fans who are obsessed with this fine craftsmanship, a just right gift can undoubtedly push their enthusiasm to a climax.
Whether for enhancing their craft, expanding their collection, or for the sheer joy of building, these gift options are what they crave.
If you happen to be looking for a gift for such a unique individual, the article you're reading now will solve that mystery for you and lead you into a world built with innovation and passion.
MOULD KING 11012 Motorised Roller Coaster Model Building Set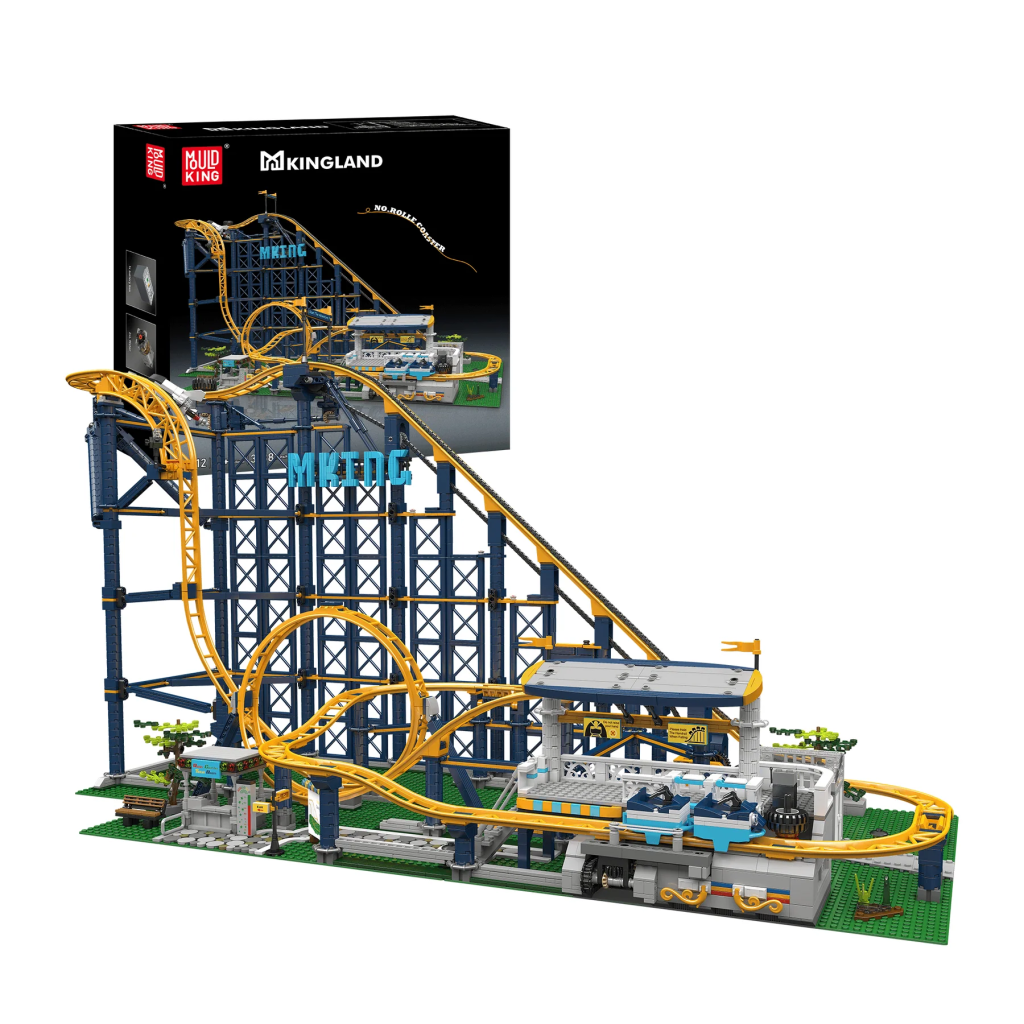 First up, let's turn our attention to the charming and innovative MOULD KING 11012 Electric Roller Coaster Model Building Set.
The jaw-dropping process of assembling this model is like a heart-pounding roller coaster ride, and each brick holds a store of wonder and thrill, waiting for you to discover.
It is meticulously constructed from more than 3,000 building blocks, displaying a breathtaking level of detail and ingenious design. Each block has been carefully designed and polished, with an inherent allure.
Dancing at your fingertips, it forms a roller coaster model that stretches nearly one meter. This project is extremely spectacular and gives an immersive building experience.
It's not just a model, it's an adventure, with a track that's over 4 meters long.
From the ticket gate on the floor, through the busy stairs to the bustling platform area, you can almost imagine the smiling faces and excitement of those passengers.
Finally, they embark on a heart-pounding rollercoaster ride on the brick-built train. With ingenious design and unparalleled innovation, this model has successfully transferred the realistic roller coaster experience to the model world, giving us an irresistible sense of immersion.
If you're looking for a gift for a LEGO-obsessed friend or loved one, this MOULD KING 11012 Electric Roller Coaster Model Building Kit is an excellent choice that will bring them tons of joy and surprises.
Mould King 26002 Great Ball Contraption: Marble Run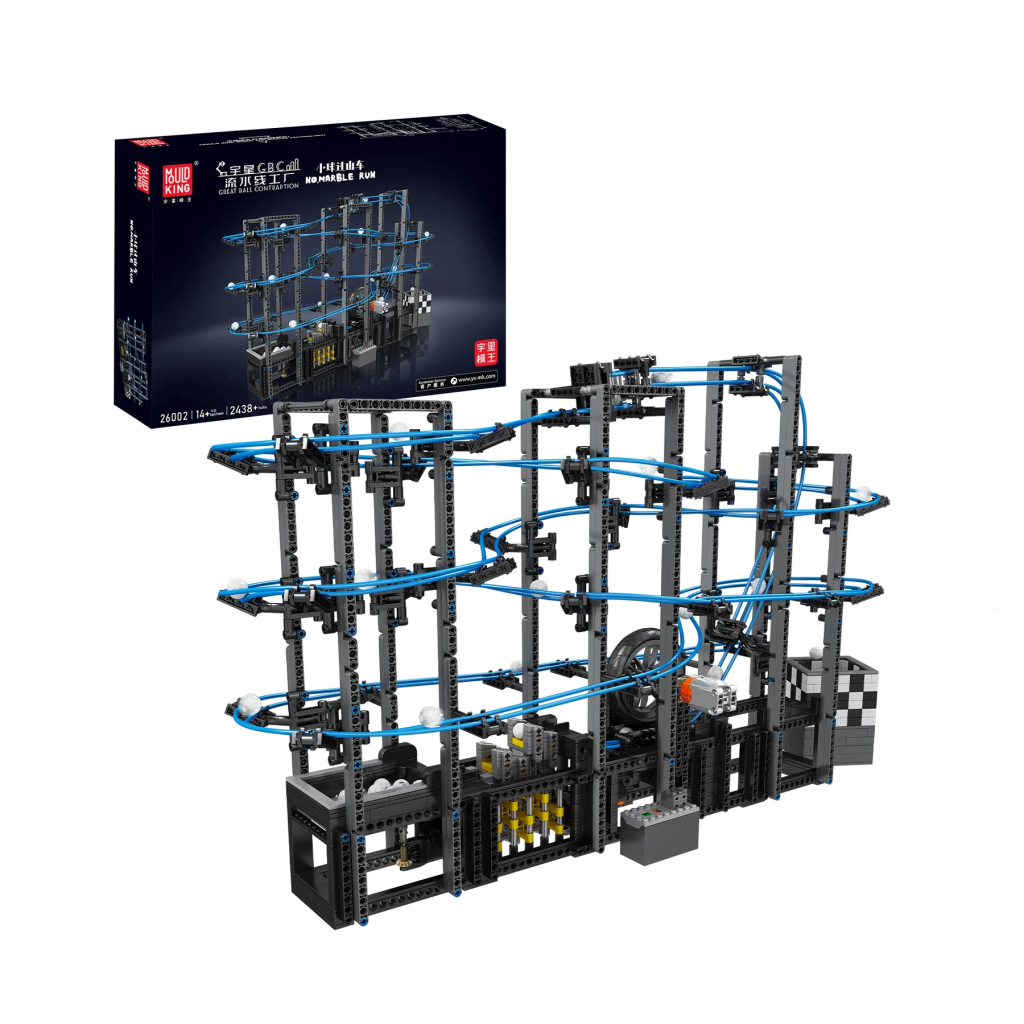 If you are a LEGO model lover looking for new thrills and experiences, then you must not miss the Mould King 26002 Great Ball Contraption Marble Run.
This kit may not be a roller coaster model in the traditional sense, but it simulates the sliding feeling of a roller coaster in its unique way, undoubtedly providing a brand new choice for roller coaster enthusiasts looking for a fresh experience.
Made up of nearly 2,500 building blocks, the model is more than 75 centimeters long and nearly 60 centimeters high, and its majestic appearance is enough to take anyone's breath away.
The built-in ultra-high-speed motor and M motor, coupled with the drive of a lithium battery, make 9 marble rolling balls glide on the well-designed track, forming a visual feast.
It seems to be showing us a marble version of the roller coaster show. The seemingly simple design brings unique fun to the players.
Stable and attractive, this model will entertain little ones while helping them develop imagination and creativity, develop hand-eye coordination and boost self-confidence.
As they put the model together piece by piece, they will experience the joy and sense of accomplishment of creation. And when the marble ball slides on the track, they will be awed by this marvel of innovation and technology.
In short, the Mould King 26002 slide building kit is like a dream planter, which brings us not only a beautiful model, but also a creative world with infinite possibilities.
For those friends who love roller coasters and Lego bricks, or those who want to give their children a special gift, this model is undoubtedly an incomparable gift.
LEGO Roller Coaster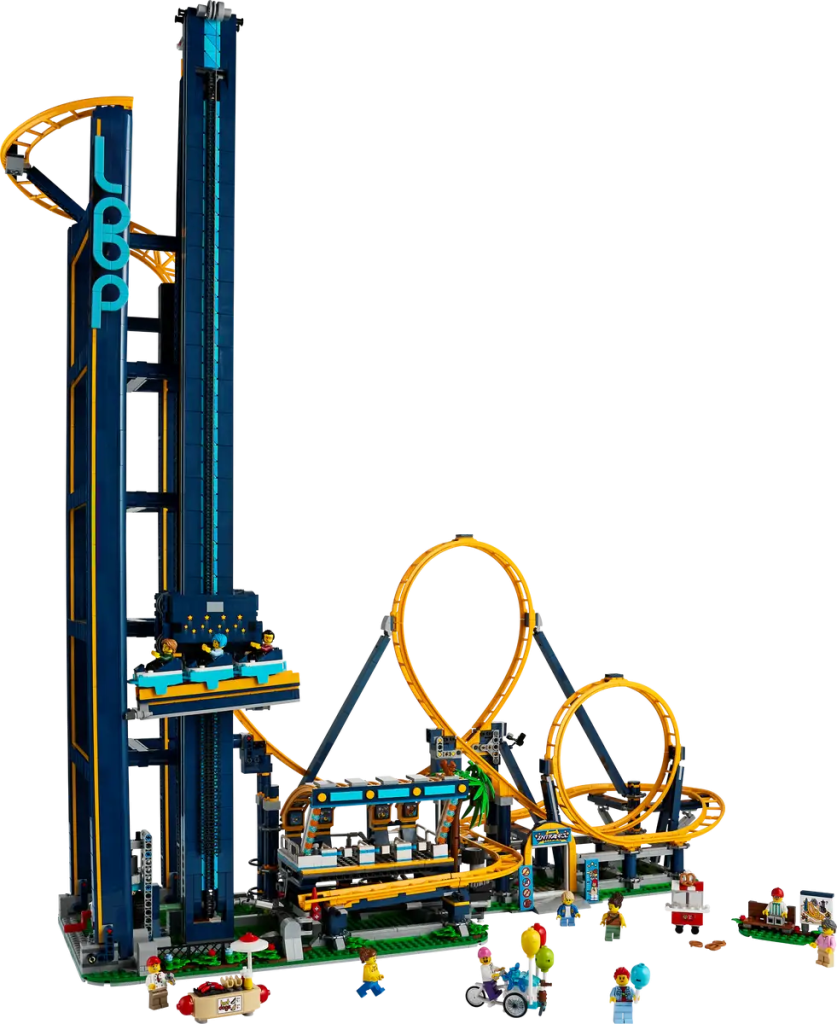 When it comes to roller coaster models, LEGO model 10303 is definitely one of the best.
This is a super-large model built from 3,756 building blocks, each of which is full of ingenuity and innovation.
As Lego promises, this model will bring "endless possibilities" to players.
First of all, the scale of this model is breathtaking. 3756 building blocks seem trivial, but when they are gradually stacked to form a spectacular roller coaster model, you will sigh that there are indeed some things in this world beyond imagination.
Whether it is the sliding of the wheels, the bending of the track, or the details of the auditorium, it is enough to make you intoxicated.
Secondly, the interactivity of this model is unmatched by other models. You can place small building blocks in the detailed platform area to let them experience this thrilling roller coaster ride.
You'll be inspired every time you see these little LEGO characters having fun inside their models.
In addition, the LEGO model 10303 roller coaster model is also an excellent platform to experience creativity. The beauty of LEGO is that it encourages us to innovate, to try new combinations, to create designs that have never been done before.
You can make various modifications to this model to make it more unique and outstanding according to your preferences and imagination.
Finally, I have to say that this model is extremely playable. Whether it is the process of assembly, or the appreciation and play after completion, it will bring you endless fun.
Be proud of your masterpiece every time you see it.
Overall, the LEGO 10303 roller coaster model is an excellent product, not just a toy, but a way of expressing creativity and imagination.
It will be a perfect choice whether you are looking to challenge yourself or want to give your friends or family a unique gift.
In the fast-paced world of today, it's all too easy to overlook the simple pleasures of creating something with your own two hands.
Whether you're a die-hard roller coaster enthusiast, a lover of LEGO and building sets, or simply someone looking for an exhilarating creative journey, these fantastic model sets provide more than just a tangible product—they offer an exciting adventure, a therapeutic and a gateway to endless creativity.
Whichever you choose as a gift, will undoubtedly be a breathtaking ride of joy, challenge, and fulfillment for the recipient.
After all, in every tiny piece of these models lies an opportunity—a chance to build dreams, passions, and roller coasters that touch the sky!
So go ahead, and embrace the magic these models have to offer. Happy building!